Graphic Designing
Want to represent your marketing elements through the power of creatively designed graphics? If so, then you have come to the right spot! Come and join us at Webtales, where every project is important and different.
We believe that not all companies are the same, even if they belong to the same industry. Keeping this thought process in mind, we have been able to create some of the best Graphic Designing services for our clients to enjoy!
Whether you are looking for standard help or just want to try something unique and out of the box, we got you covered. We believe graphics to be the most innovative tool for conveying your message to prospective audiences. So, let us help you reach that spot now!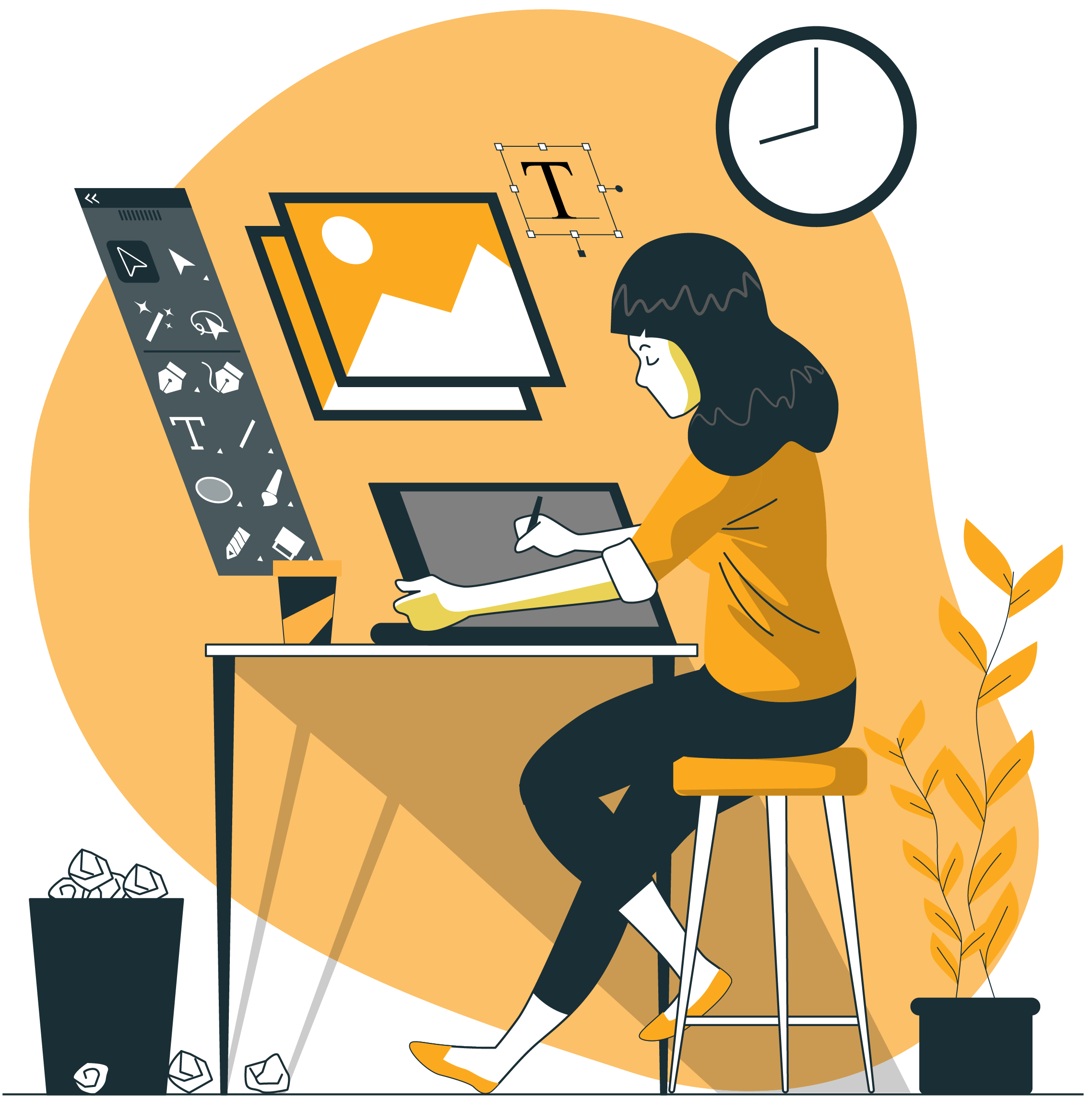 The Graphic Designing services we offer:
Before you proceed further and catch up with us, let us help you understand the Graphic Designing services we have in store.
With us by your side, you need not have to worry about creating amazing website designs. Our created results will be top-notch and will make your business boom among your prospective clients.
You want a business logo, which is completely different from the masses but speaks a lot about you and your company. If so, then you have come to the right spot! We are here to design the most attention-grabbing logos for you.
Flyers might be a bit different from other promotional tools but still, hold their places in the marketing section. So, give us the opportunity to create some outstanding flyers to help attract maximum crowds towards your side.
Apart from the options mentioned already, we are here to create awesome flexes. You need these services to strengthen the brand image of your firm, alongside enhancing its recognition.
There are three major characteristics, which determine our Graphic Designing work, and those are ingenious, creative, and conspicuous. We believe that adding these three components will help to create the most engaging result possible. So, catching up people's attention to your brand name won't be that tough anymore. Just give us a call first!
How we work as Graphic Designing service providers:
Yes, it is true that the market houses so many service providers, claiming to offer the best Graphics Designing services. But how can our services prove to be different from the rest? Let's find out!
Our artwork is crafted with colossal creativity. We use the most contemporary tools and techniques to work on astounding designs, resulting in the best CTA performance. So, we are here to deliver unsurpassed designs according to your needs.
We are all set to leverage the latest technologies and most advanced tools, with the only goal being to create a seamless design. So, if you want a different result with your graphic ideas, we will be your best shot.
We make it a point to hire only well-acclaimed graphic designers, who will first understand your business objectives and your vision to create designs. These designs will then ideally blend well with your business ideologies.
It is all about hard work and no shortcuts, and we believe every word of that. So, even if we have a tiring process in front of us, we ensure to complete the task on time so that you don't have to look anywhere else for a secondary helping hand.
Working with us will give you the opportunity to be an active part of your Graphic Designing project. We will only start our work after getting a go-ahead signal from your side. At first, we will present you with a basic layout of the design and will start working later with you by our side!